[Thank you to Katherine Brooks, The Huffington Post Senior Arts and Culture Editor, for this fascinating coverage of "The Nutcracker" in historical photos which originally appeared in The Huffington Post. You may follow Katherine on Twitter @kann_brooks and will find her Huffington Post profile at http://www.huffingtonpost.com/author/katherine-brooks.]
"The Nutcracker" might be a family favorite today, but back in the 1890s, the uber-famous ballet was a critical flop.
Pyotr Ilyich Tchaikovsky premiered his now internationally beloved ballet "The Nutcracker" in 1892. Choreographed by Marius Petipa and his assistant Lev Ivanov, audiences in St. Petersburg were not particularly taken with the performance, which was loosely based on the dark E.T.A. Hoffmann story, "The Nutcracker and the Mouse King." Critics enjoyed the composition, but found the ballet and costumery itself to be lackluster. In reviews, writers singled out the Sugar Plum Fairy, harshly describing the dancer Antonietta Dell'Era as "pudgy." All in all, it was not a success. And Tchaikovsky himself never saw the ballet gain in popularity.
1892 ballet "The Nutcracker" (Wikipedia)
Skip forward a century and a quarter, and "The Nutcracker" is by and large the most beloved ballet of the holiday season. It's performed around the world as a staple of Christmas ritual, thanks almost entirely to a 20th century choreographer by the name of George Balanchine. He first staged the ballet in 1954, two decades after its debut in the United States, and his adaptation became a hit in New York City. "The first of his five full-length ballets, this was the Nutcracker that launched the hundreds of Nutcracker ballets that now dominate America's Decembers," Laura Jacobs writes in Vanity Fair.
Henceforth, Clara and Herr Drosselmeyer, the Nutcracker Prince and the Sugar Plum Fairy — they became just as important a part of the winter pantheon as Frosty, the Grinch and Rudolph. In celebration of Nutcracker season, we went through the photographic archives to showcase a collection of vintage ballet snapshots. Behold, 50 years of the "The Nutcracker":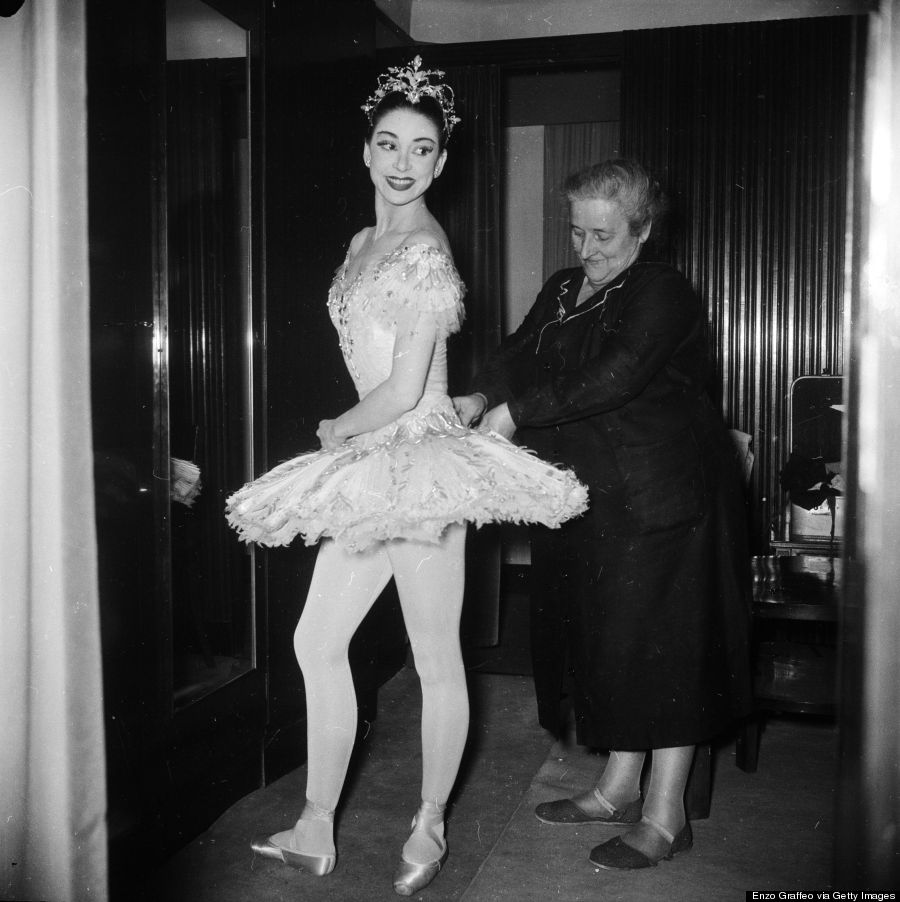 British ballet dancer Margot Fonteyn (1919 - 1991) in Milan for a production of the Nutcracker at La Scala in 1957. (Photo by Enzo Graffeo/BIPs/Getty Images)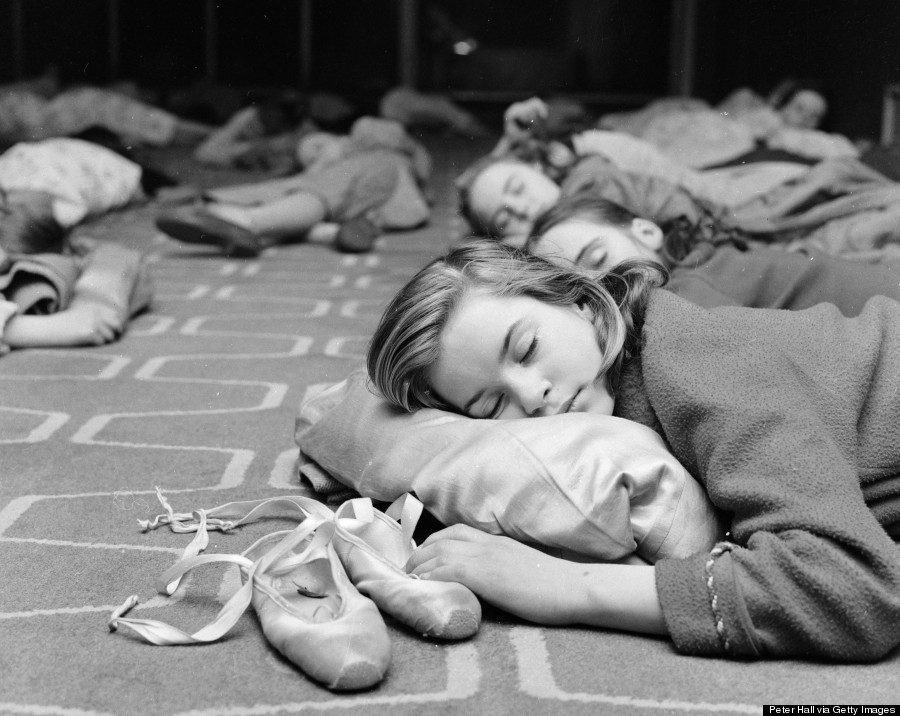 Twelve-year-old Suzanne Cullingford keeps one hand on her ballet slippers during a nap at the Royal Festival Hall in London on December 28, 1961. She and the other young members of the Festival Ballet have been ordered to take a nap between performances of Tchaikovsky's "Nutcracker Suite." (Photo by Peter Hall/Keystone Features/Getty Images)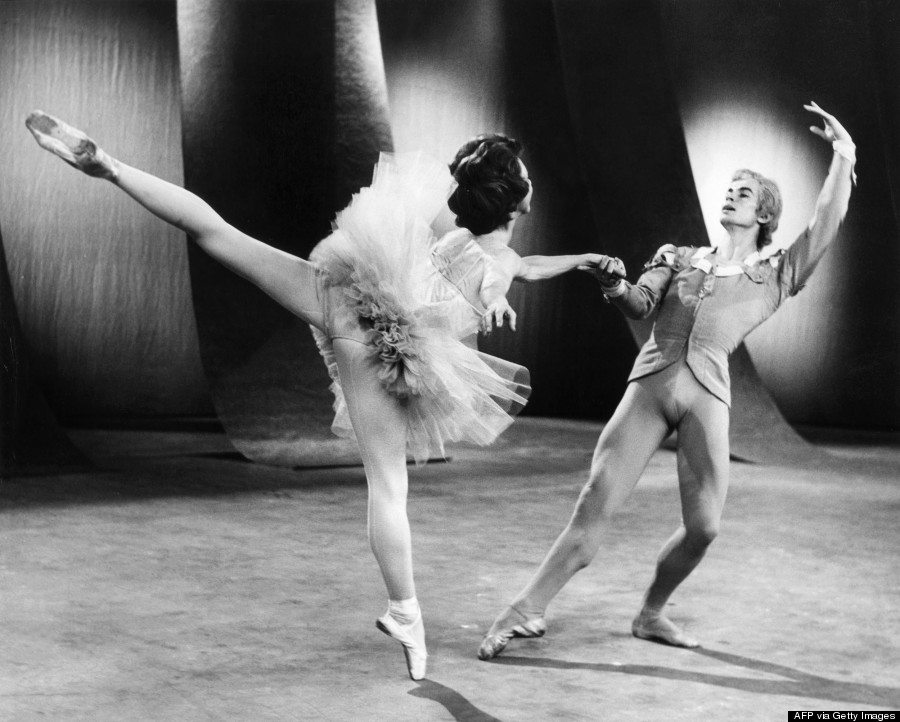 Russian ballet dancer Rudolf Nureyev with Rosella Hightower during a dress rehearsal at the B.B.C. television studios in London in 1962. They gave the first performance in the West of new Russian choreography for the Grand Pas de Deux from the "Nutcracker" Ballet, which was created specially for Nureyev. (Photo credit should read AFP/AFP/Getty Images)
Russian ballet dancer Rudolf Nureyev with Rosella Hightower during a dress rehearsal at the B.B.C. television studios in London in 1962. They gave the first performance in the West of new Russian choreography for the Grand Pas de Deux from the "Nutcracker" Ballet, which was created specially for Nureyev. (Photo credit should read AFP/AFP/Getty Images)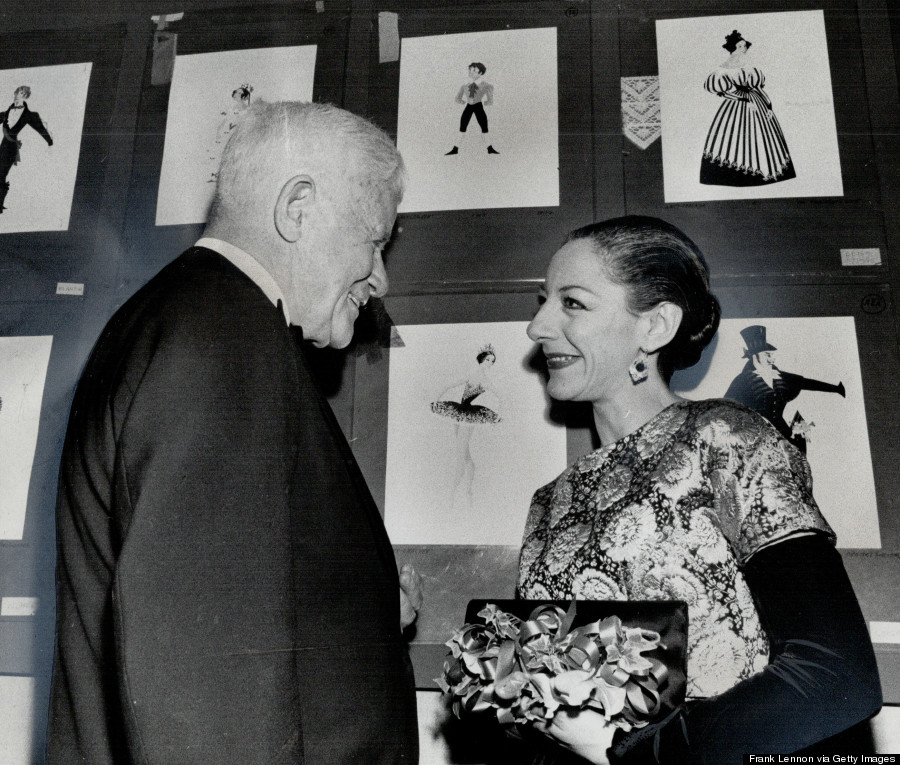 Pictures of costume designs for "The Nutcracker" decorated a wall of the lower lounge at the O'Keefe Centre for the opening night party. Chatting near them are Celia-Franca; artistic director of the National Ballet, and R. A. Laidlaw. (Photo by Frank Lennon/Toronto Star via Getty Images)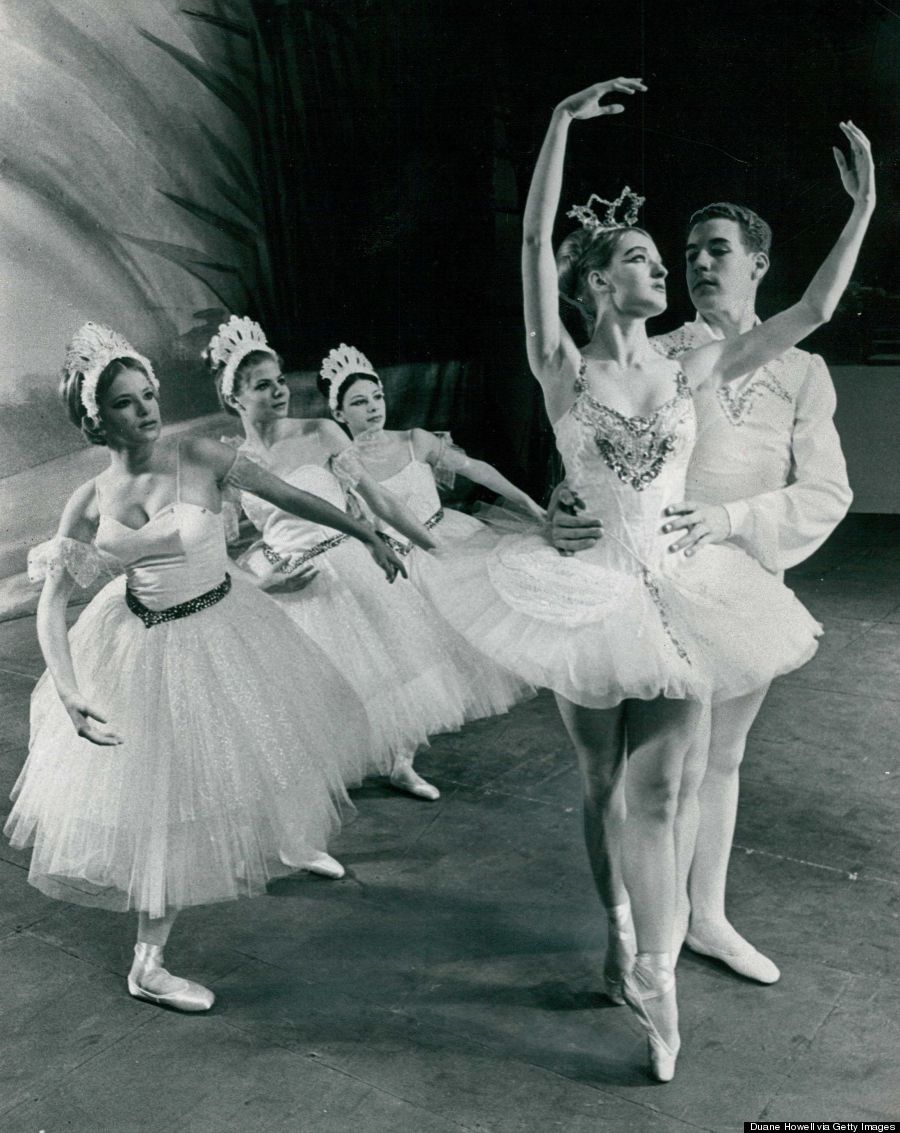 Charlie Putman and Jiji Jahrig appear as the Snow King and Snow Queen in this scene from "The Nutcracker Ballet" on December 11, 1966. Behind them are the three Snowflakes, played by, from left, Sherry Darmopray, Christy Darmopray and Linda Vigil. (Photo By Duane Howell/The Denver Post via Getty Images)
Costume design for the ballet "The Nutcracke"r by P. Tchaikovsky, 1966. Found in the collection of the State Central A. Bakhrushin Theatre Museum, Moscow. (Photo by Fine Art Images/Heritage Images/Getty Images)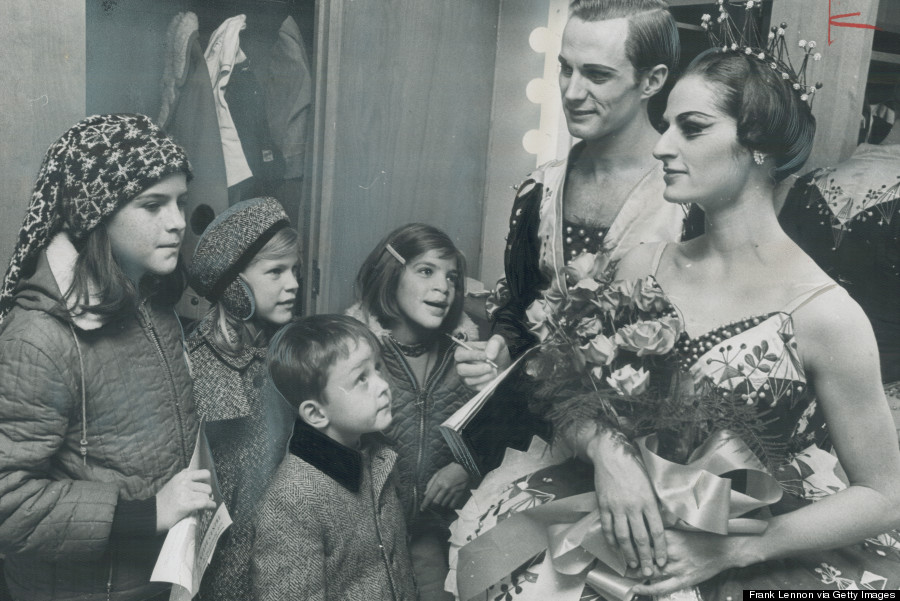 A real-life Nutcracker Prince (Jeremy Blanton) and his Snow Queen (Veronica Tennant) give the Christmas season a fairytale flourish as they sign autographs for youngsters in the opening day audience at O'Keefe Centre after National Ballet's annual Christmas presentation of Tchaikovsky's "Nutcracker" Suite in 1967. (Photo by Frank Lennon/Toronto Star via Getty Images)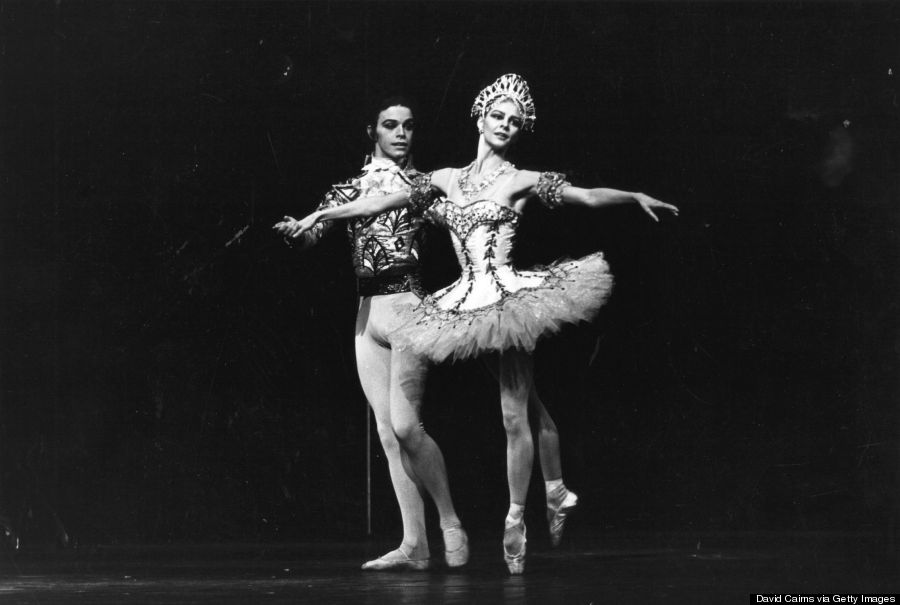 The dancers Antoinette Sibley and Anthony Dowell, of the Royal Ballet, in "The Nutcracker" on February 28, 1968. (Photo by David Cairns/Express/Getty Images)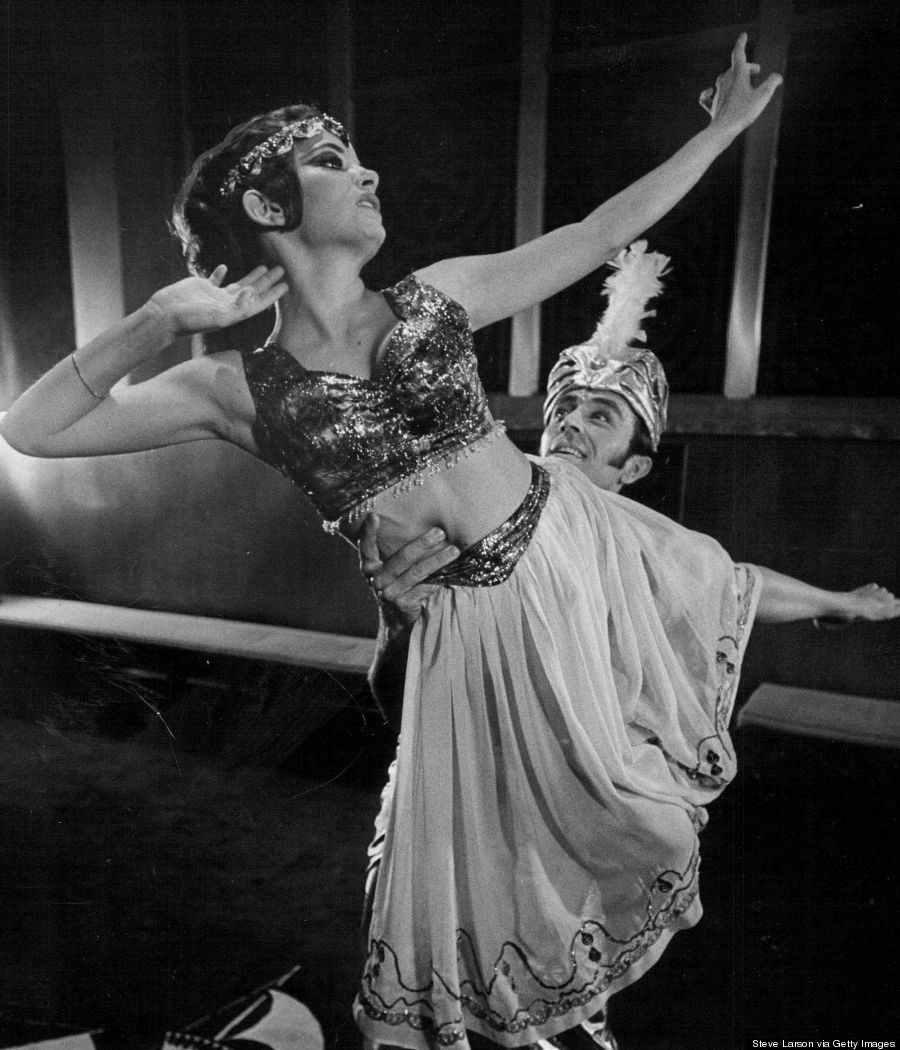 Shere Darmopray, as a "slave girl," with Earl Clayton, playing a Persian character, in this scene from the Colorado Concert Ballet's "The Nutcracker" in 1969. (Photo By Steve Larson/The Denver Post via Getty Images)
Dancer Richard Denny displays the "up-up-and-away" style needed to dance the lead role of the Snow Prince in the Colorado Concert Ballet's performance of "The Nutcracker" at Bonfils Theatre.; (Photo By Steve Larson/The Denver Post via Getty Images)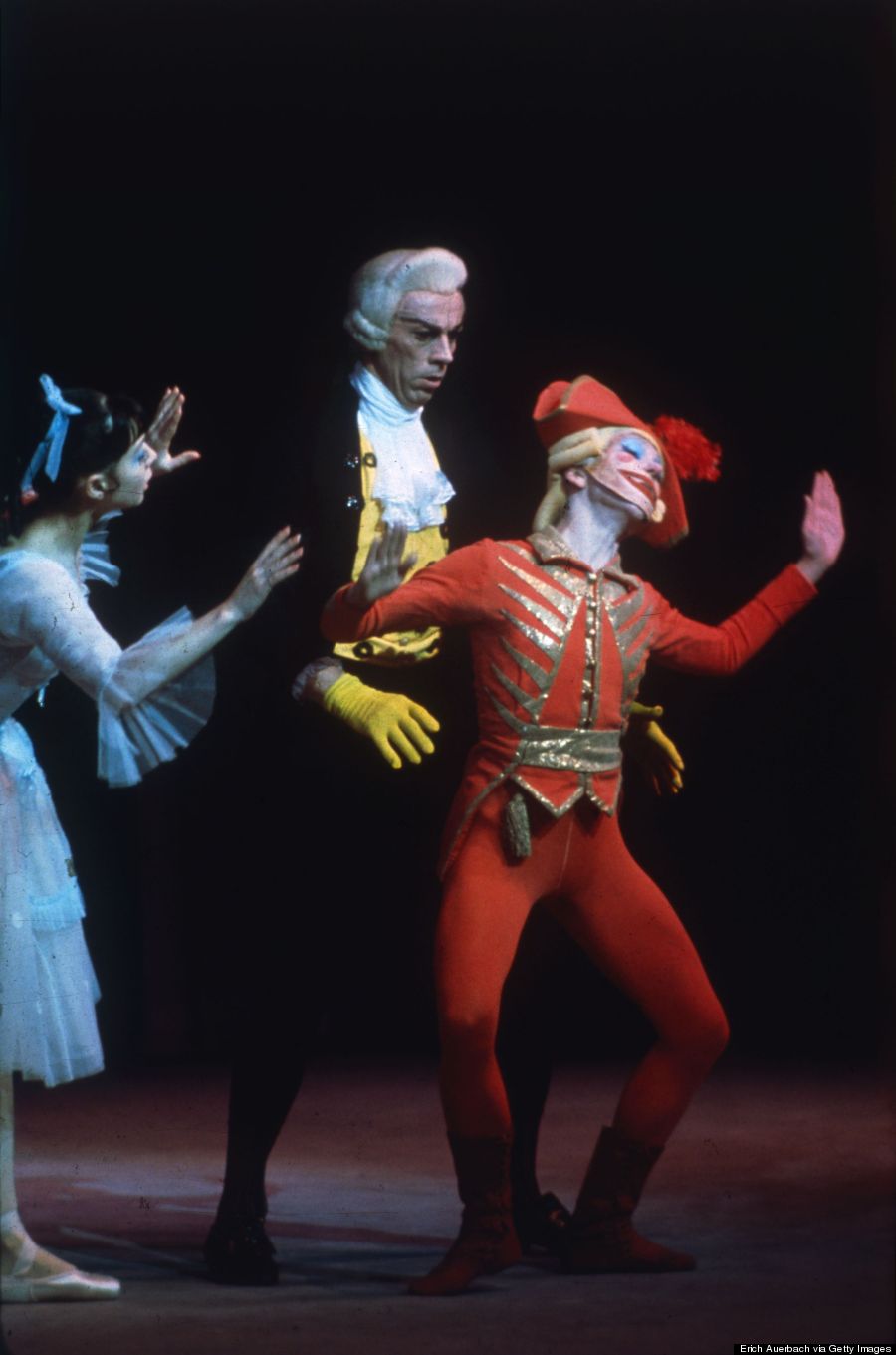 Ekaterina Maximova, Vladimir Levashov and Vladimir Vasiliev (Bolshoi Theatre Artistic Director in 1990s) in the Bolshoi Ballet production of "The Nutcracker." (Photo by Erich Auerbach/Getty Images)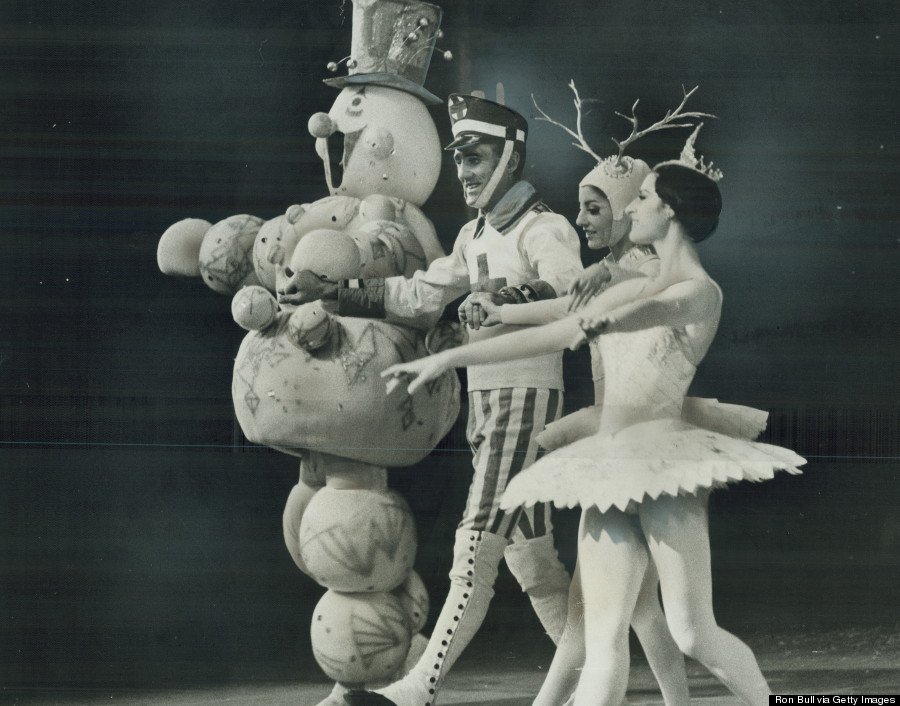 Jacques Plante is used to taking bows around arenas in the National Hockey League where he has starred for several seasons as a goaltender. But yesterday at the O'Keefe Centre, the Leaf netminder made a guest appearance as a stretcher bearer in the National Ballet's production of "The Nutcracker." (Photo by Ron Bull/Toronto Star via Getty Images)
A Ballerina Doll in a "Nutcracker" production in 1971. (Photo By John G. White/The Denver Post via Getty Images)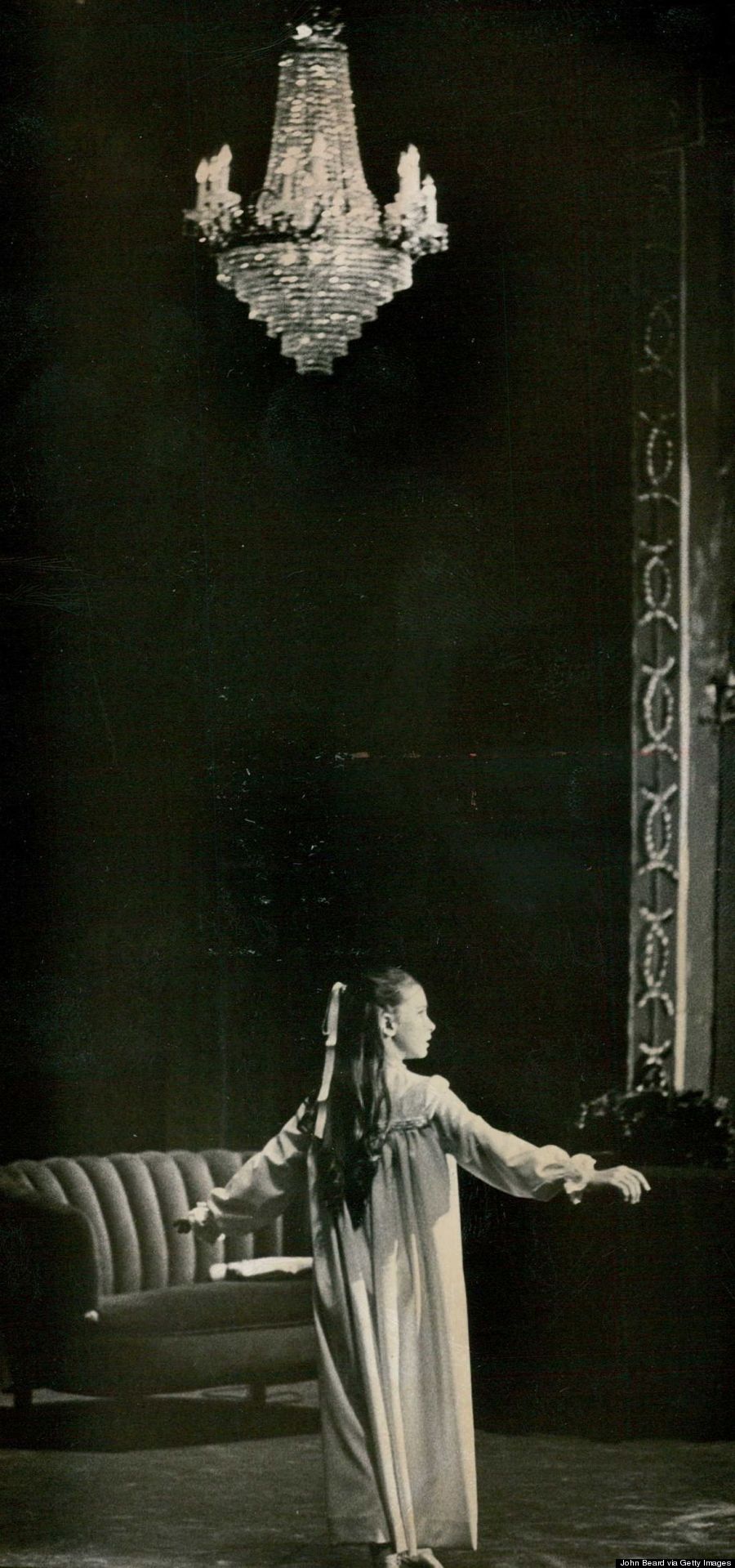 Heater Moore goes through a dance routine as Clara in "The Nutcracker" in 1972. (Photo By John Beard/The Denver Post via Getty Images)
Nadia Potts, dancer in "The Nutcracker" at the O'Keefe Centre, with sugar plums, in 1972. (Photo by Reg Innell/Toronto Star via Getty Images)
The National Ballet's "The Nutcracker" at the O'Keefe Centre, with Veronica Tennant dancing the role of the Sugar Plum Fairy in 1972. (Photo by Bob Olsen/Toronto Star via Getty Images)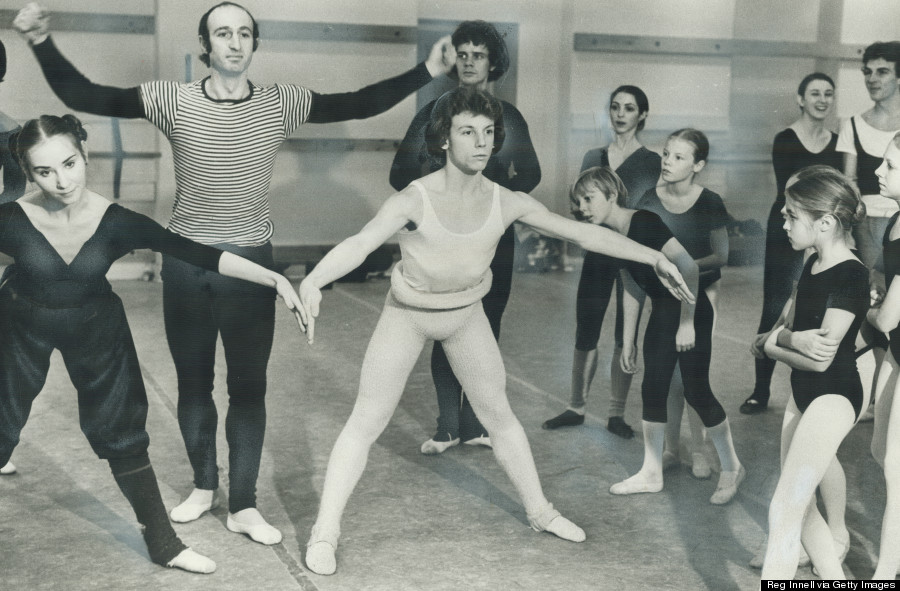 Dancers in the National Ballet's cast for the traditional Christmas performances of "The Nutcracker" at the O'Keefe Centre rehearse in 1973. (Photo by Reg Innell/Toronto Star via Getty Images)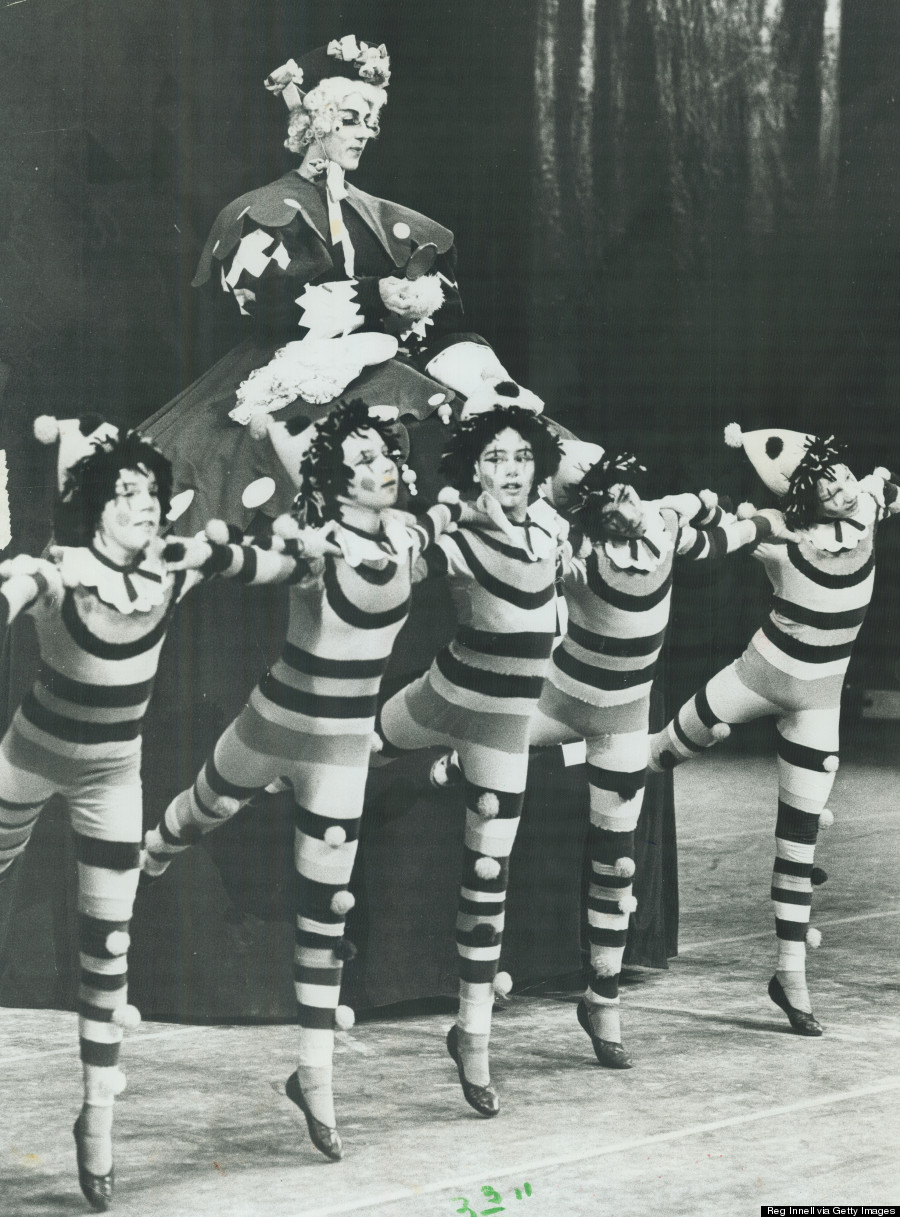 The National Ballet of Canada's "The Nutcracker" in 1975. (Photo by Reg Innell/Toronto Star via Getty Images)
Nadia Potts and Tomas Schramek, lead dancers with the National Ballet of Canada, presented a beautifully molded pas de deux in the company's annual Christmas showpiece in 1975. (Photo by Reg Innell/Toronto Star via Getty Images)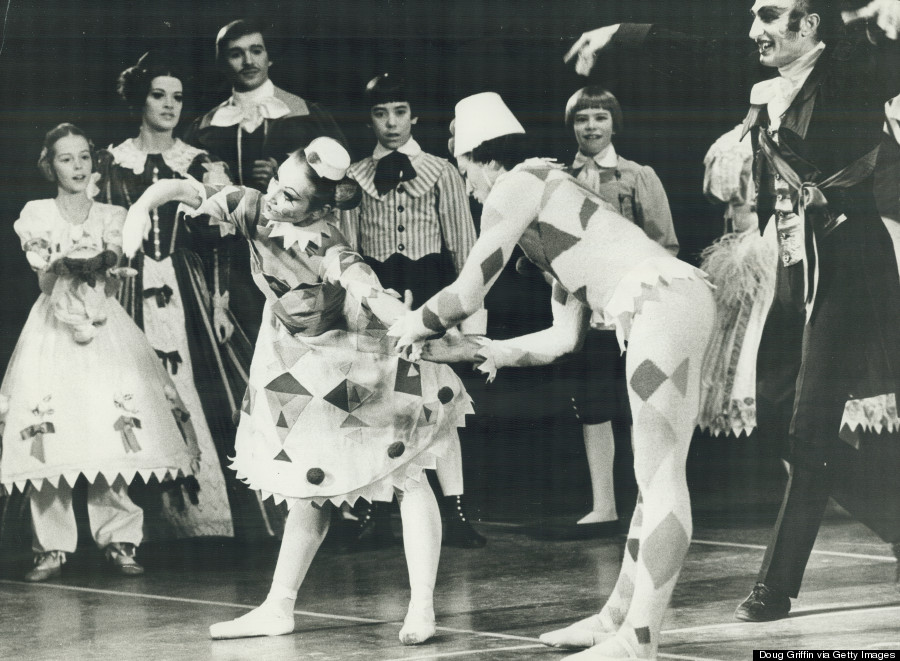 The National Ballet's "The Nutcracker" in 1977. (Photo by Doug Griffin/Toronto Star via Getty Images)
Dancer Mikhail Baryshnikov is seen in the title role in the ballet "The Nutcracker," during dress rehearsals in New York on May 17, 1977. This is also his debut as choreographer. (AP Photo/Suzanne Vlamis)
Russian-born American dancer Mikhail Baryshnikov (as "The Nutcracker" prince) fights the Mouse King during a performance of the American Ballet Theatre's production of Baryshnikov's version of "The Nutcracker" at the Metropolitan Opera House, Lincoln Center in New York, New York on May 16, 1977. (Photo by Jack Vartoogian/Getty Images)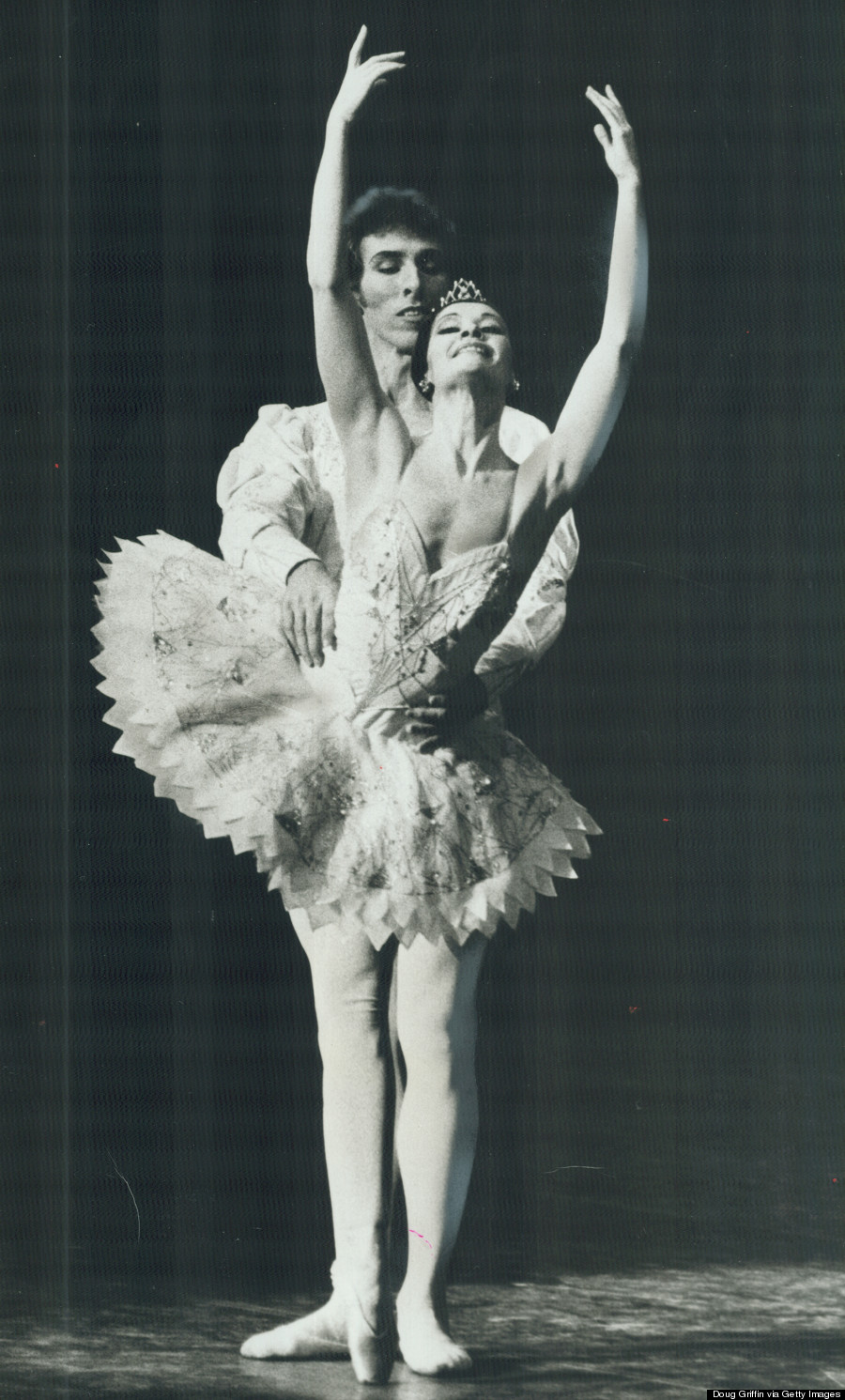 Vanessa Harwood made her Toronto debut as the Snow Queen and Sugar Plum Fairy in the popular Tchaikovsky "Nutcracker Suite," presented annually by the National Ballet Of Canada at the O'Keefe Centre. She was partnered by Clinton Rothwell. (Photo by Doug Griffin/Toronto Star via Getty Images)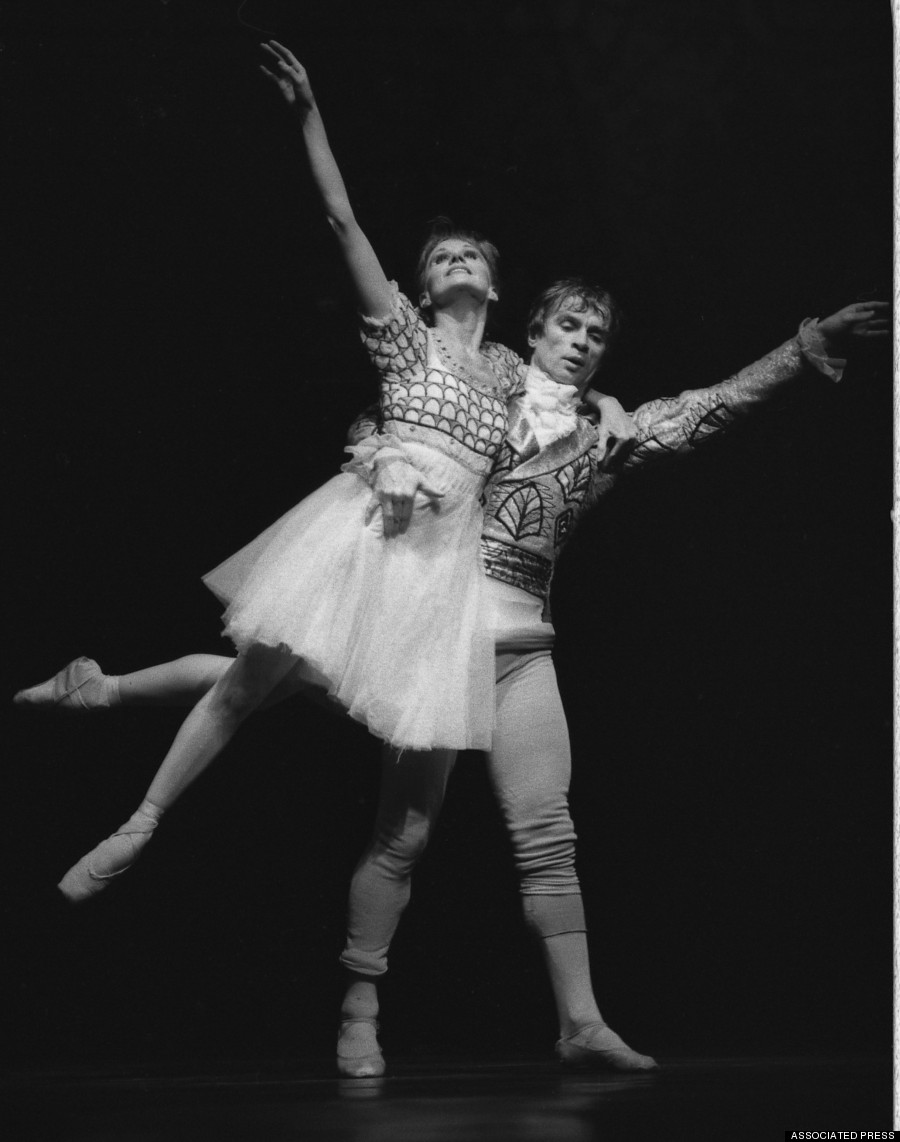 Russian born dancer, actor and choreographer, Rudolf Nureyev, right, dances with Rhodesian born prima ballerina, Merle Park, during dress rehearsal November 2, 1979 in West Berlin's Opera, West Germany, for tomorrow's premiere of Tchaikovsky's "Nutcracker" suite. (AP Photo/Edwin Reichert)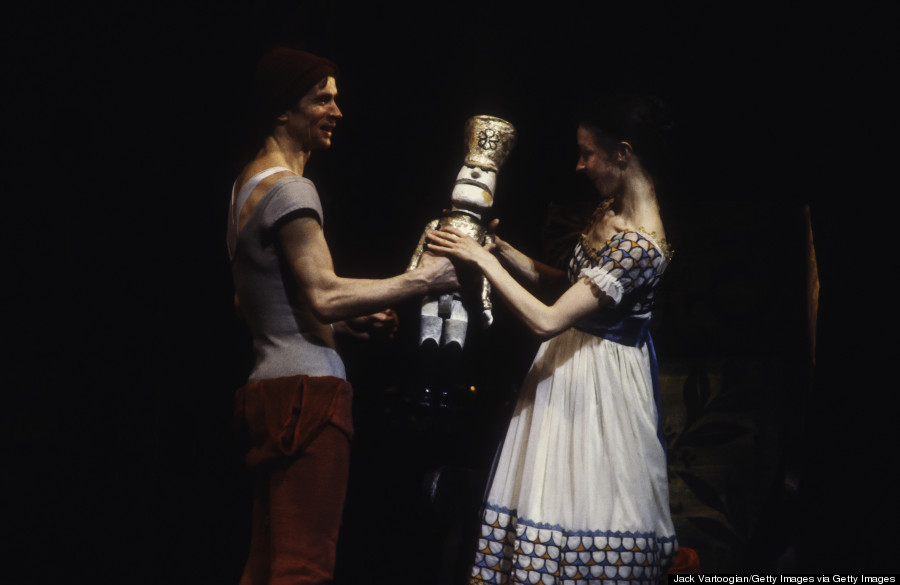 Russian-born French dancer Rudolf Nureyev (1938-1993) and American ballerina Eva Evdokimova (1948-2009) rehearse Nureyev's version of "The Nutcracker" (by Peter Ilyich Tchaikovsky) with the Berlin Ballet at the Metropolitan Opera House at Lincoln Center in New York, New York on July 18, 1980. (Photo by Jack Vartoogian/Getty Images)
"The Nutcracker" in 1980. (Photo by Doug Griffin/Toronto Star via Getty Images)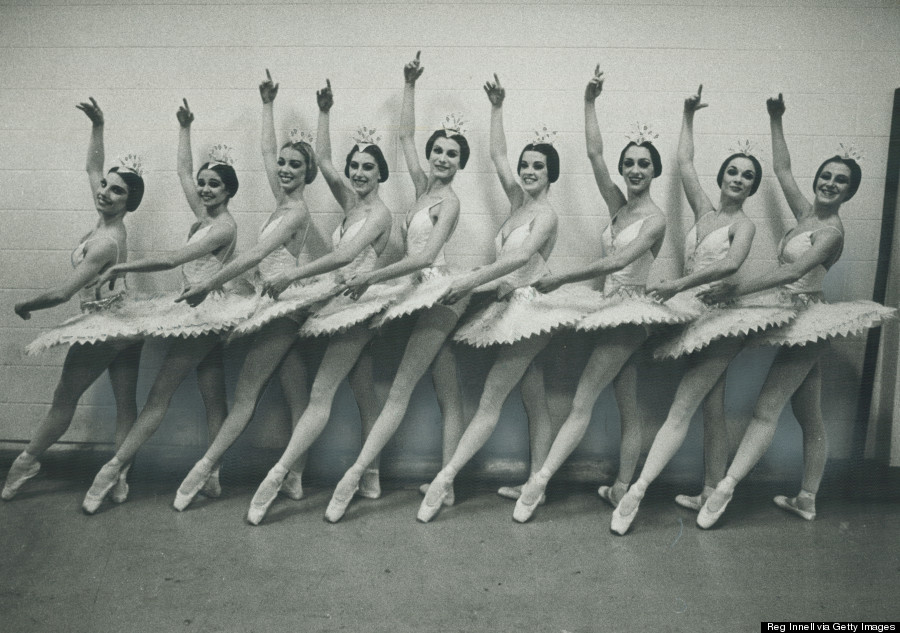 These dancers of the National Ballet company, in their "Nutcracker Suite" costumes in 1981. (Photo by Reg Innell/Toronto Star via Getty Images)
Stagehand Ray McLaughlin swept artificial snow from the stage of Boston's Metropolitan Center for the Performing Arts during dress rehearsal for Boston Ballet's production of "The Nutcracker." Elaine Bauer, who danced the role of the Snow Queen, watched while Donn Edwards, who had the role of the Snow King, conversed with Violette Verdy, co-artistic director of the ballet. (Photo by Ted Dully/The Boston Globe via Getty Images)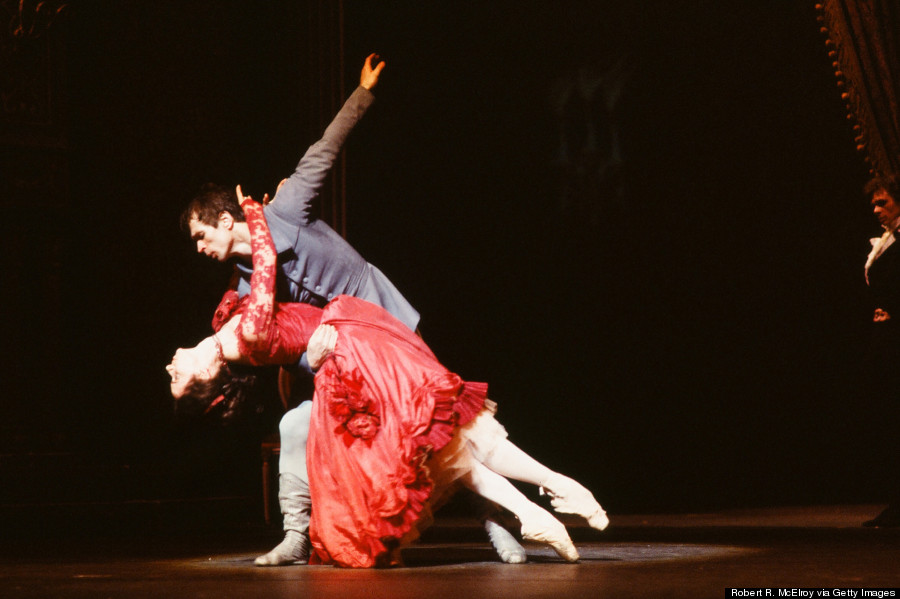 Russian-born French dancer Rudolf Nureyev (1938-1993) dances with an unidentified cast member in Frank Ohman's New York Dance Theatre production of "The Nutcracker," in New York, New York in 1982. (Photo by Robert R. McElroy/Getty Images)
Russian-born French dancer Rudolf Nureyev (1938 - 1993) (second left) dances with an unidentified cast members in Frank Ohman's New York Dance Theatre production of "The Nutcracker," in New York, New York in 1982. (Photo by Robert R. McElroy/Getty Images)
Young ballerinas show a marked contrast in concern over their auditions at the Boston Ballet School in Boston, Oct. 29, 1982. More than 500 youngsters tried out for a part in "The Nutcracker." (AP Photo/Mike Kullen)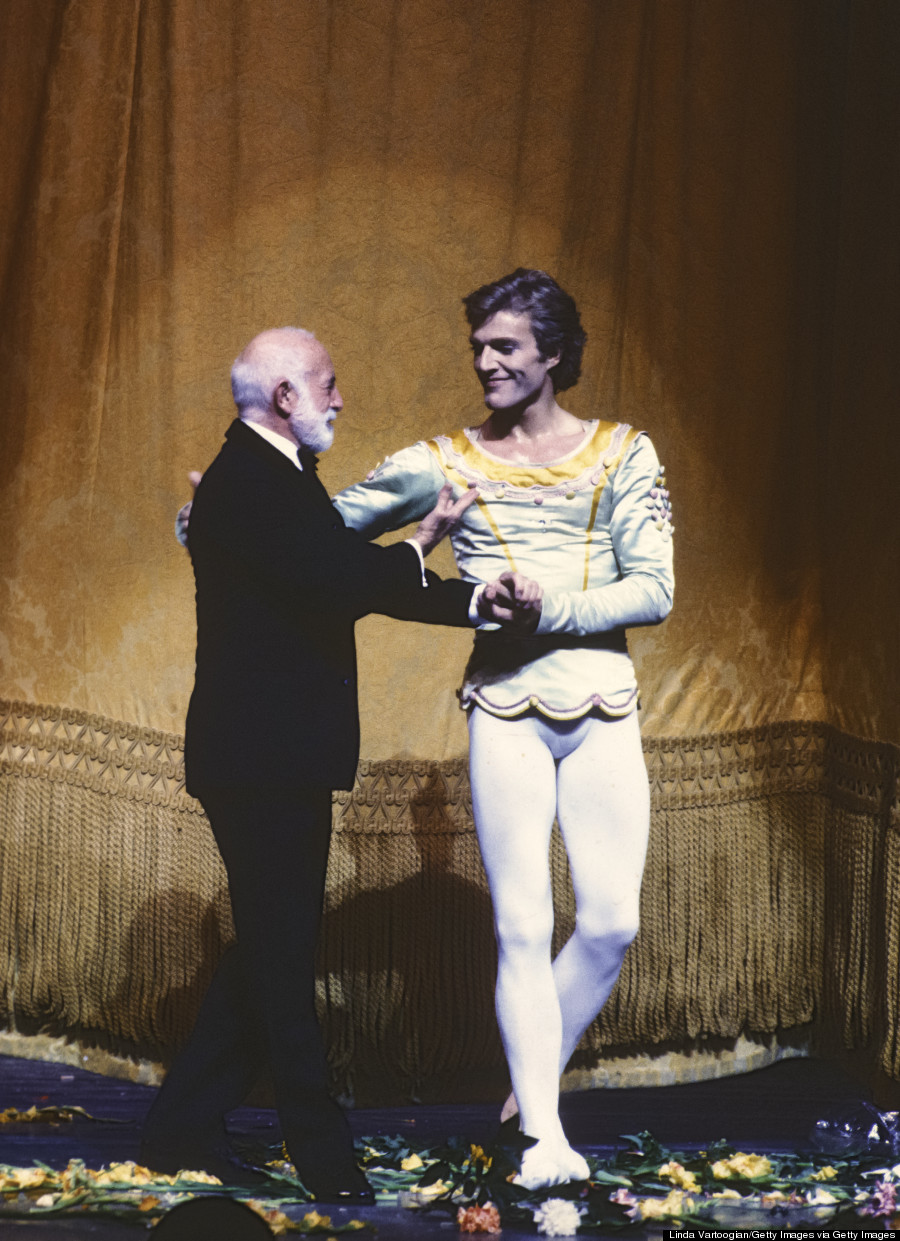 After his final performance with the New York City Ballet, Danish dancer Peter Martins (right) is greeted by American choreographer Jerome Robbins (1918-1998) in New York on December 6, 1983. Martins had just performed the role of the Prince in George Balanchine's version of Peter Ilyich Tchaikovsky's "The Nutcracker." (Photo by Linda Vartoogian/Getty Images)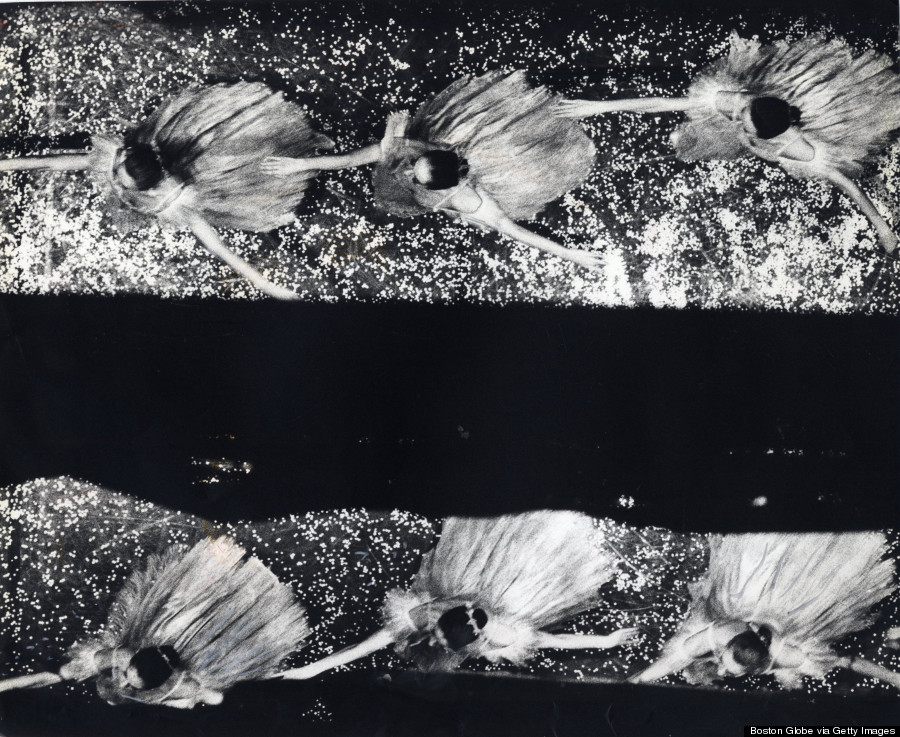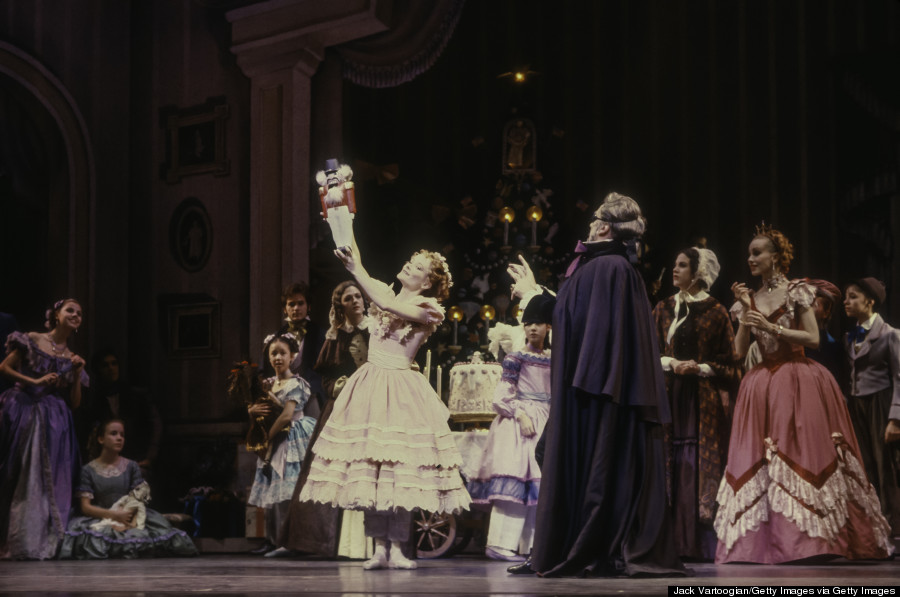 American dancer Mary Barton (as Clara) and New Zealander Alexander Grant (1925 - 2011) (as Dr Drosselmeyer) perform during Act I of the Joffrey Ballet's production of "The Nutcracker" (by Peter Ilyich Tchaikovsky, with choreography by Robert Joffrey and Gerald Arpino) at City Center, New York, New York, December 30, 1987. (Photo by Jack Vartoogian/Getty Images)
New Zealand-born dancer Alexander Grant (1925 - 2011) (as Dr Drosselmeyer) performs in the Joffrey Ballet's production of "The Nutcracker" (by Peter Ilyich Tchaikovsky, with choreography by Robert Joffrey and Gerald Arpino) at City Center, New York, New York, December 30, 1987. (Photo by Jack Vartoogian/Getty Images)
Members of the Joffrey Ballet perform in the company's production of "The Nutcracker" (by Peter Ilyich Tchaikovsky, with choreography by Robert Joffrey and Gerald Arpino) at City Center in New York, New York on December 30, 1987. (Photo by Jack Vartoogian/Getty Images)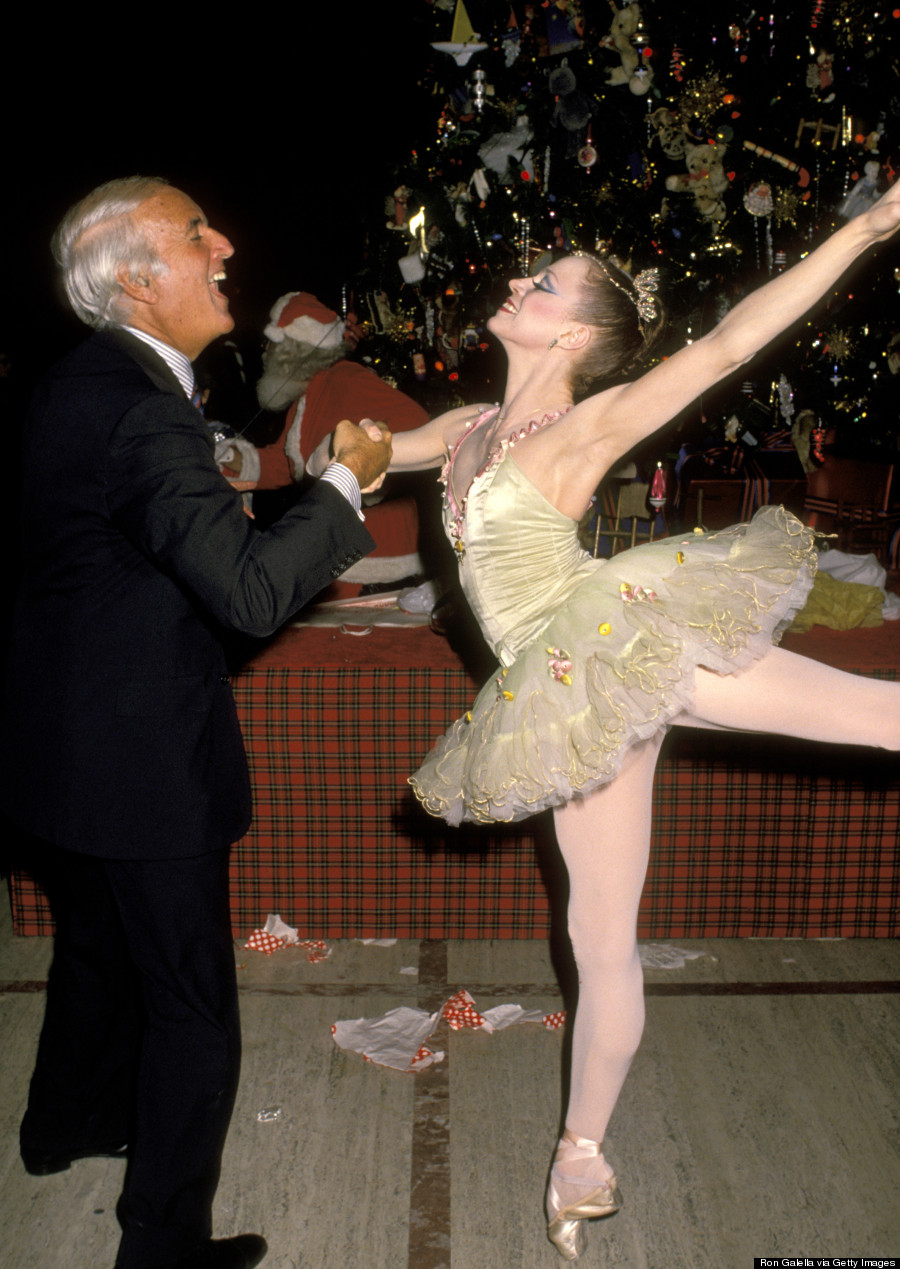 Steve Ross and Heather Watts during New York City Ballet Performance of "The Nutcracker" on January 10, 1988 at Lincoln Center in New York City, New York. (Photo by Ron Galella/WireImage)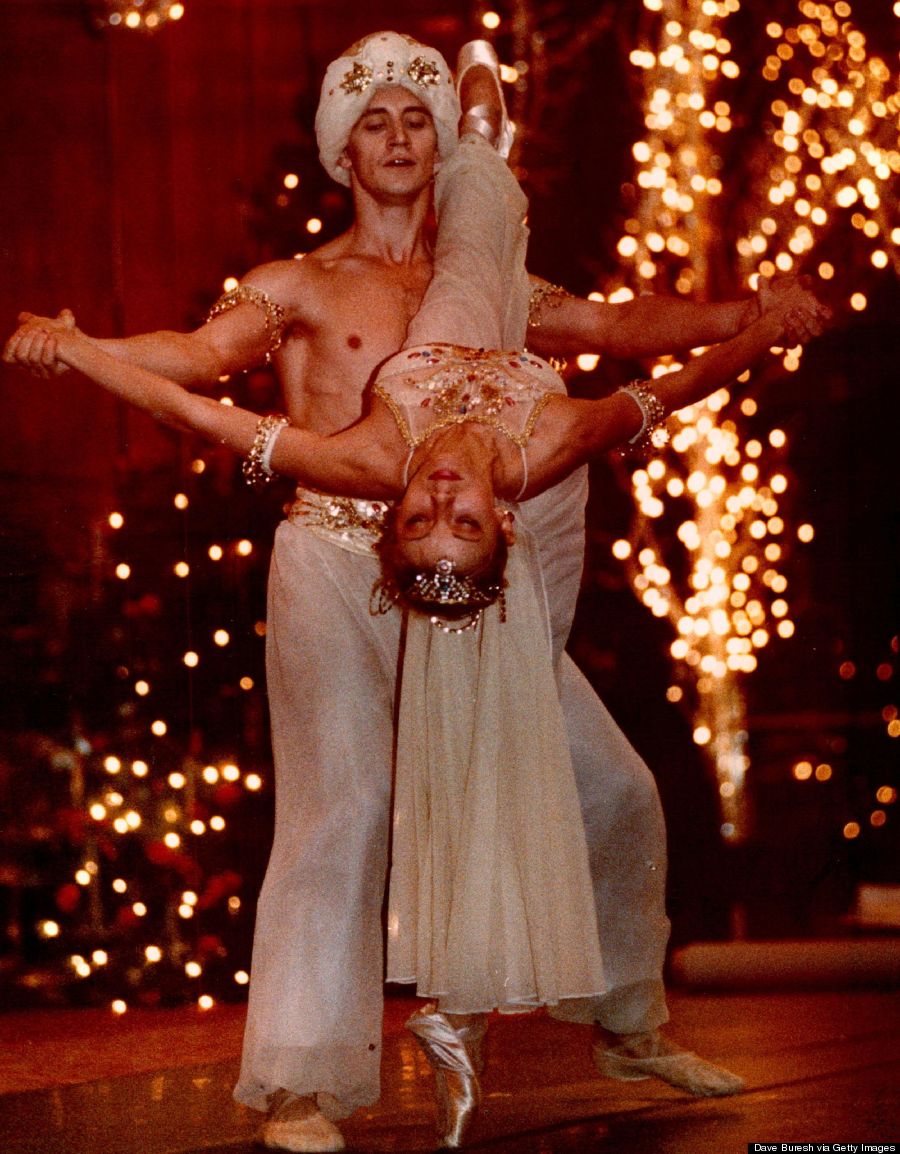 Igor Vassin and Inessa Pakri perform at the Brown Palace in "The Nutcracker" in 1992. (Photo By Dave Buresh/The Denver Post via Getty Images)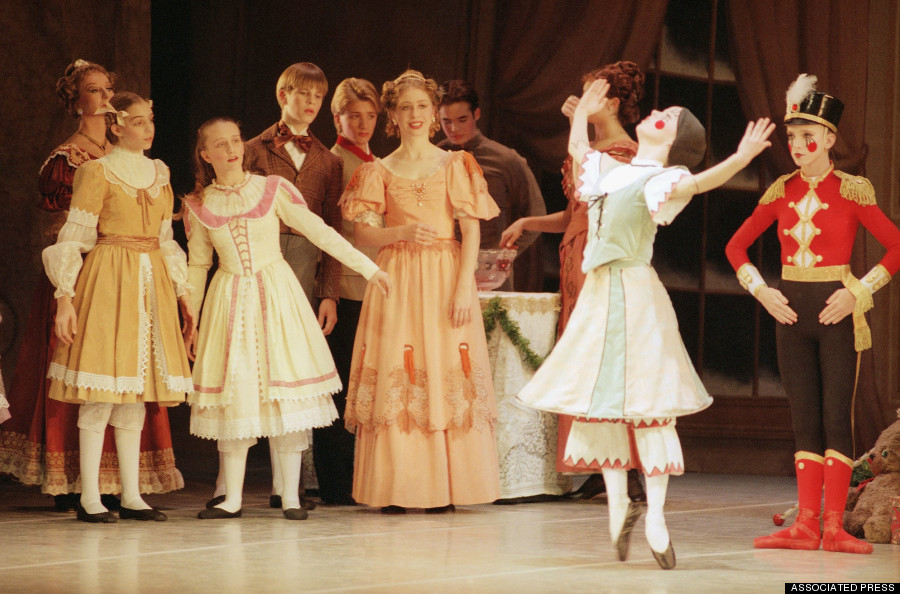 Chelsea Clinton, center, takes part in a dress rehearsal of the Washington Ballet's production of "The Nutcracker" at the Warner Theatre in Washington, Dec. 8, 1993. Chelsea portrays the Favorite Aunt in the production which starts on December 10. (AP Photo/J. Scott Applewhite)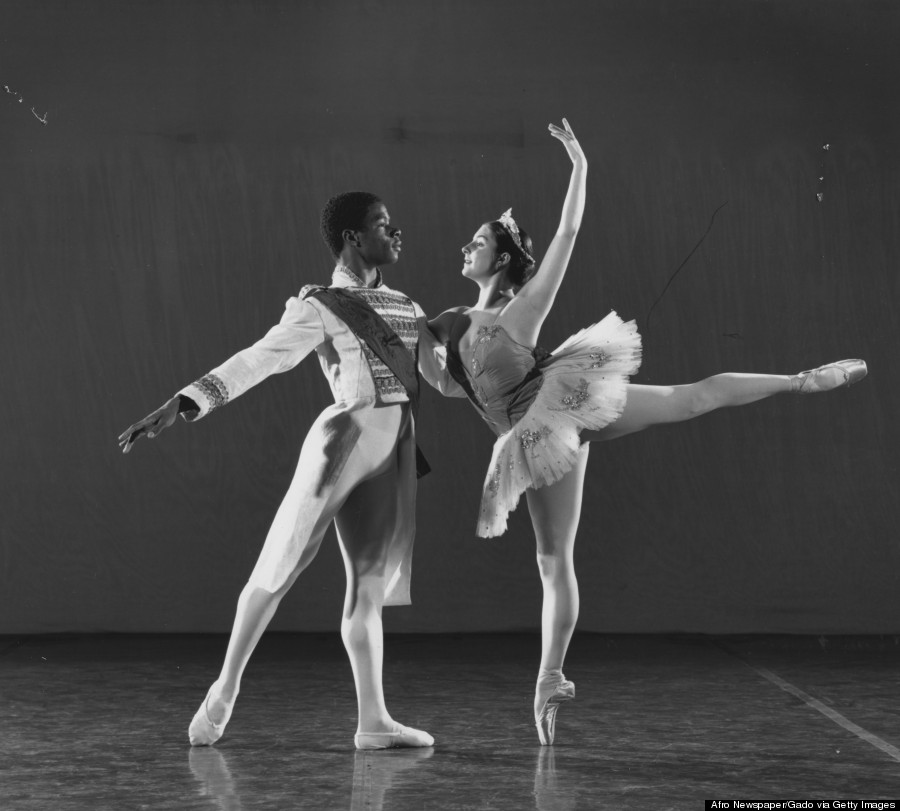 A man and woman performing a dance during the Nutcracker at the Baltimore School for the Artson November 22, 1994. (Photo by Afro American Newspapers/Gado/Getty Images)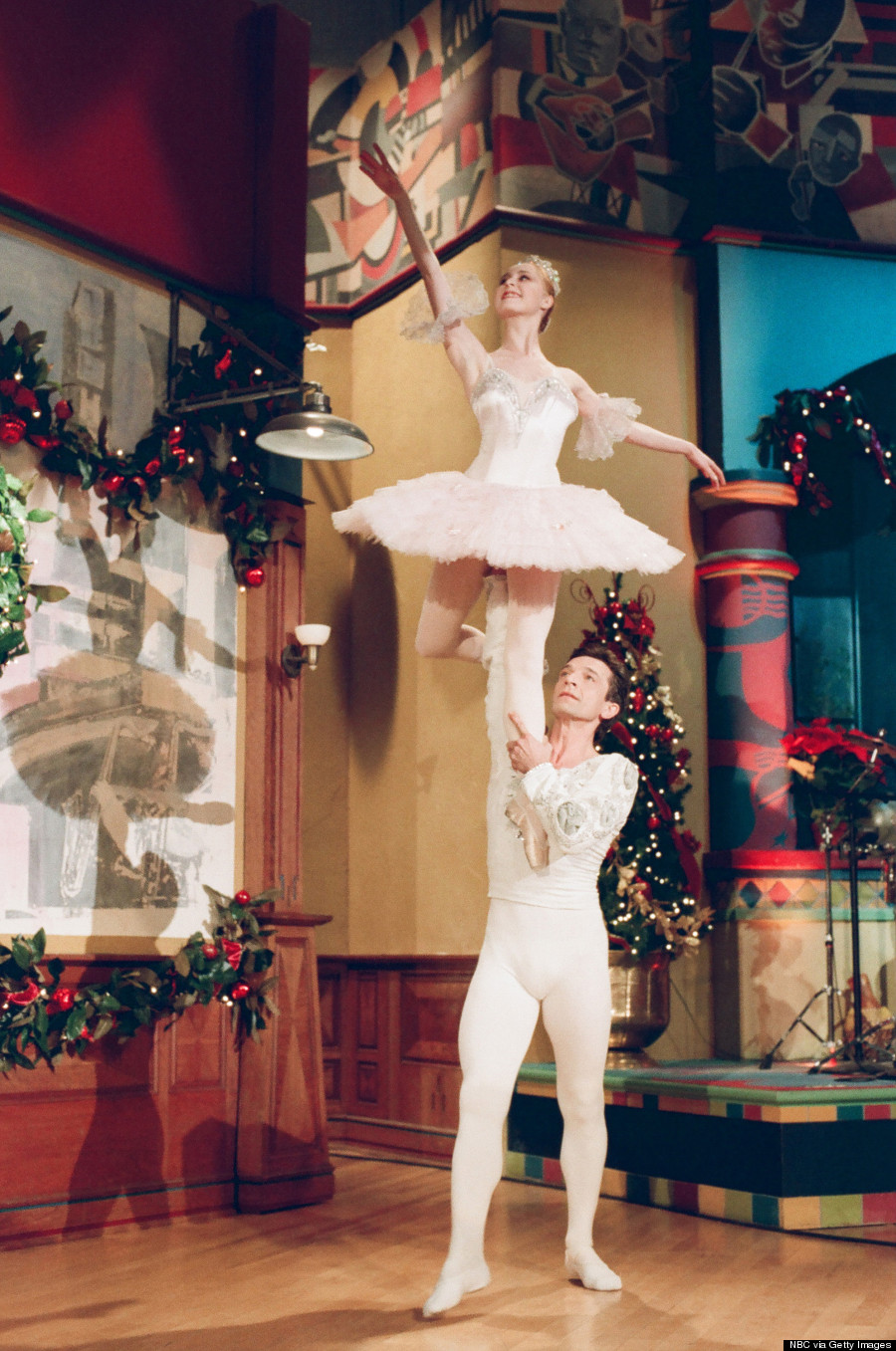 The Long Beach Ballet performs excerpts from "The Nutcracker" during a "Headlines" segment on December 11, 1995 on NBC. (Photo by: Margaret C. Norton/NBC/NBCU Photo Bank via Getty Images)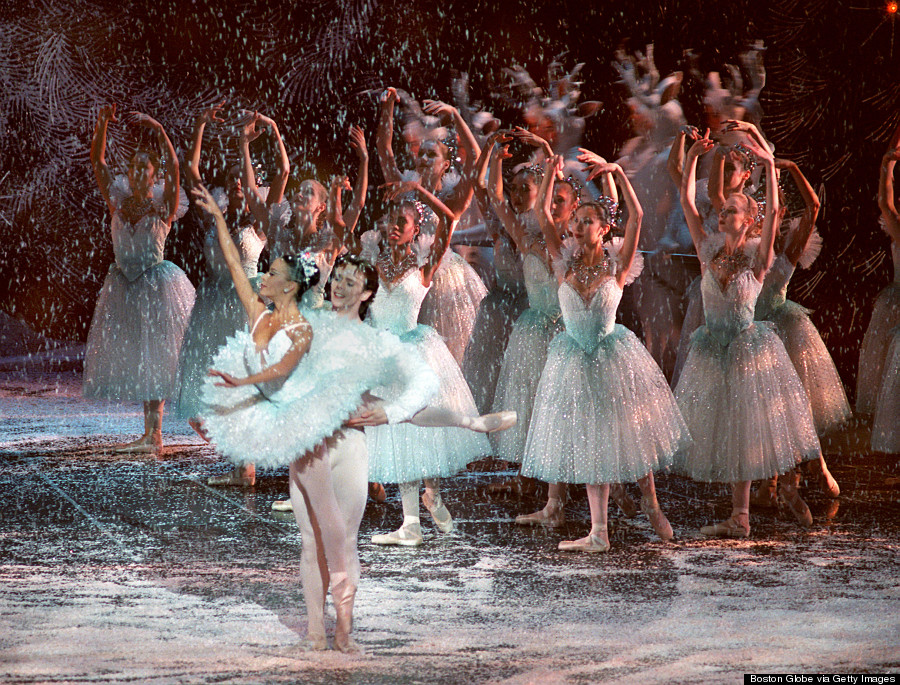 The Boston Ballet's production of "The Nutcracker." In a scene from act 1, scene 3, The Snow Queen and King as performed by Adriana Suarez and Paul Thrussell. (Photo by John Tlumacki/The Boston Globe via Getty Images)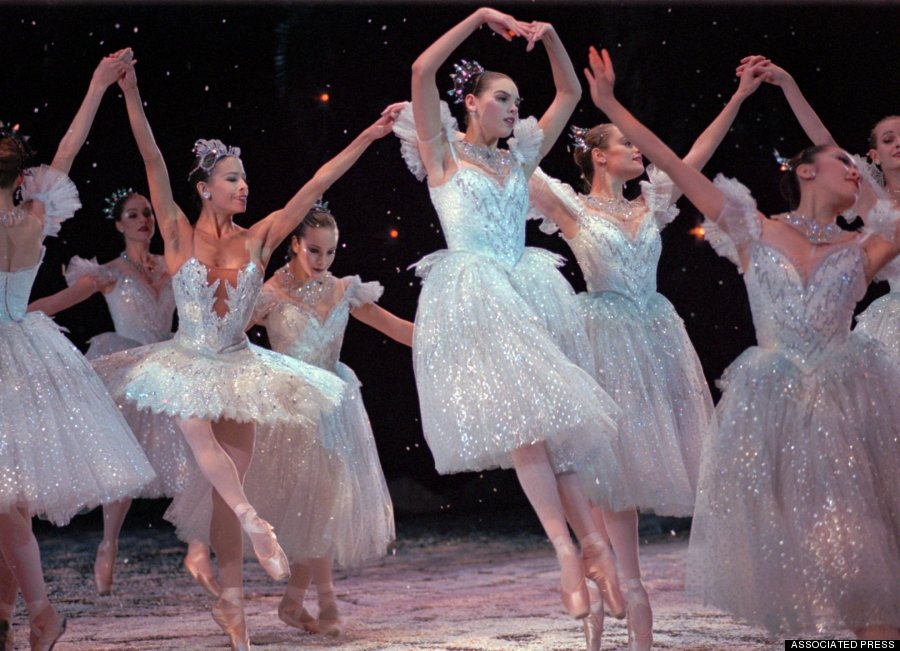 Members of the Boston Ballet dance in the "Snow Scene" during the second act of the company's production of "The Nutcracker" ballet during a dress rehearsal at the Wang Center in Boston Friday, Nov. 29, 1996. (AP Photo/Steven Senne)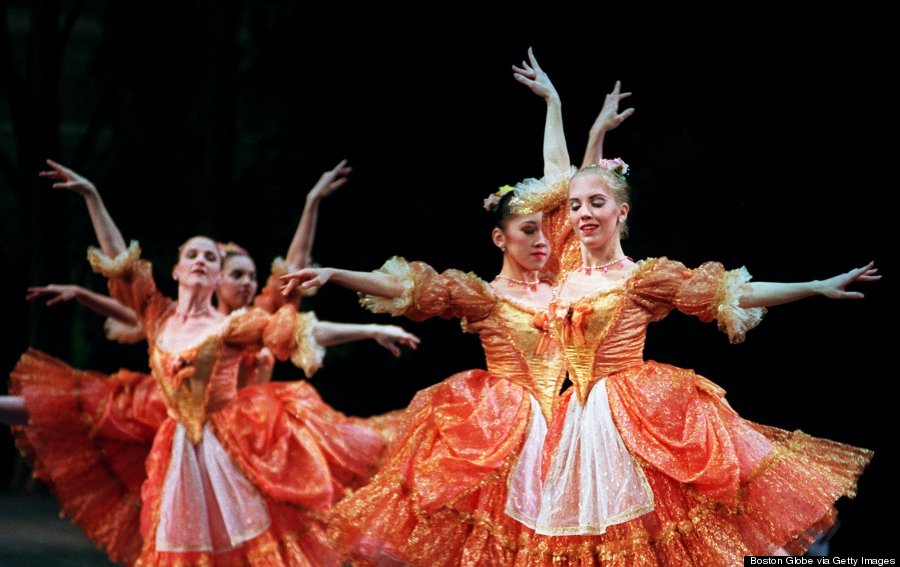 Boston Ballet brings its 33rd annual production of "The Nutcracker" to the Wang Center in Boston, Massachusetts. Dancers performing during act two in a dress rehearsal. (Photo by Dominic Chavez/The Boston Globe via Getty Images)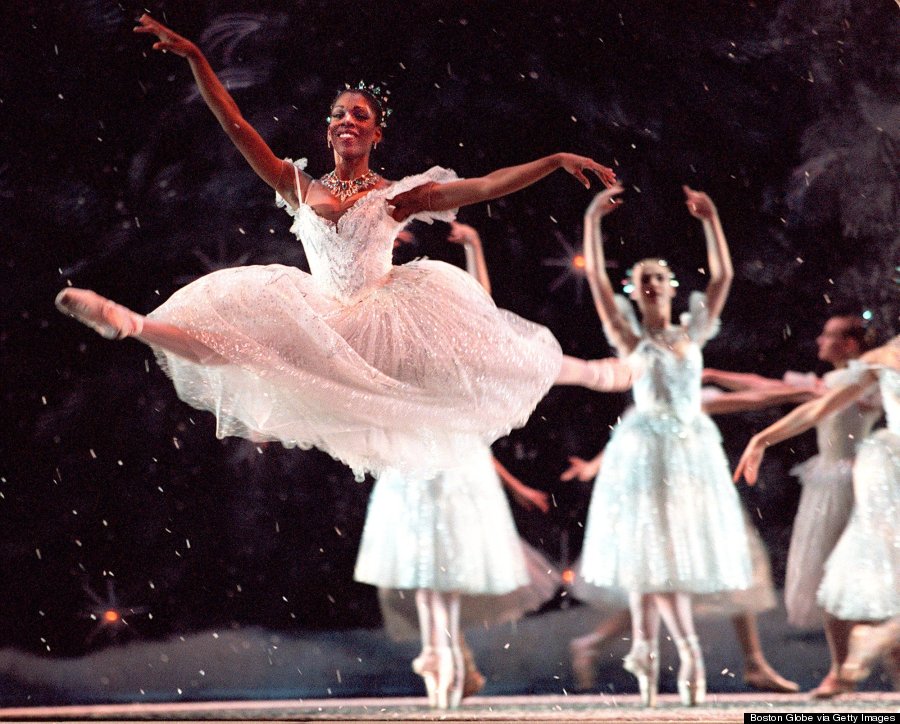 Boston Ballet dancers perform in the first act during the dress rehearsal of "The Nutcracker" at the Wang Center in Boston in 1999. (Photo by Dominic Chavez/The Boston Globe via Getty Images)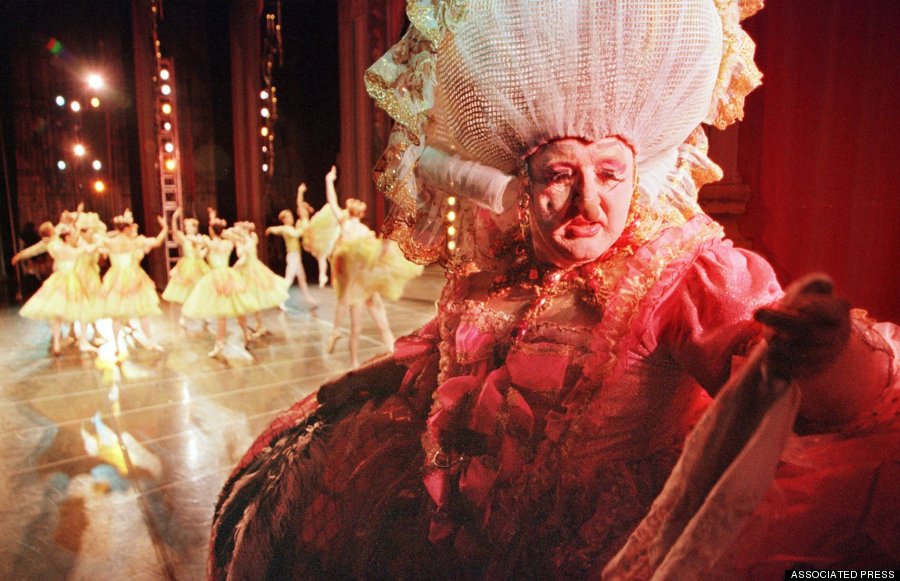 Tony Collins, aka Mother Ginger in the Boston Ballet's production of "The Nutcracker"' at the Wang Center. He hadn't missed a performance since 1965. (AP Photo/Lisa Poole)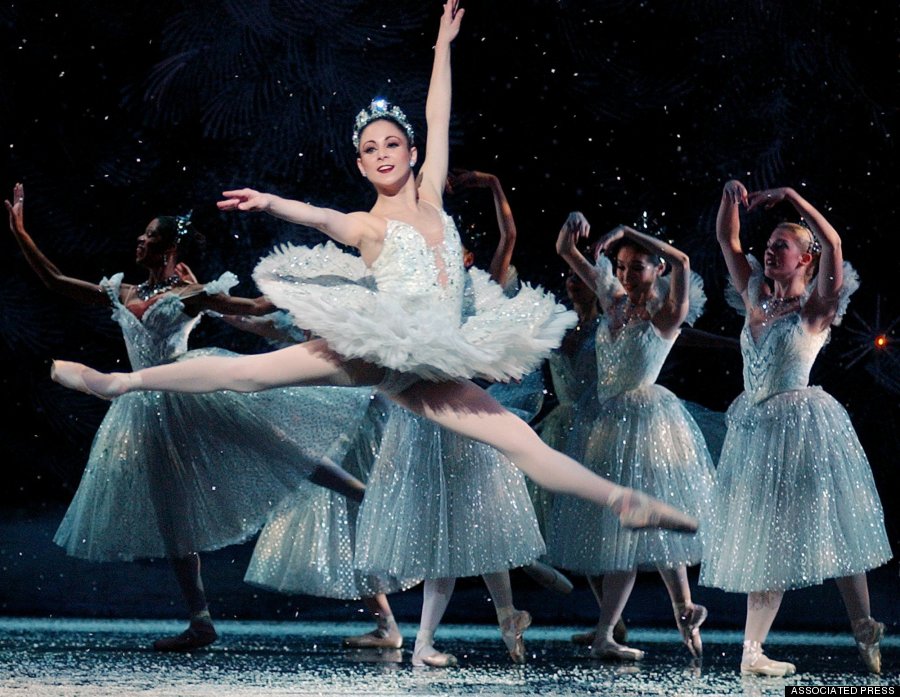 Pollyana Ribeiro performs a grand jete as the Snow Queen during dress rehearsal for the Boston Ballet's production of "The Nutcracker," Friday, Nov. 23, 2001, in Boston. The annual holiday classic opens Friday and runs through Dec. 30. (AP Photo/Michael Dwyer)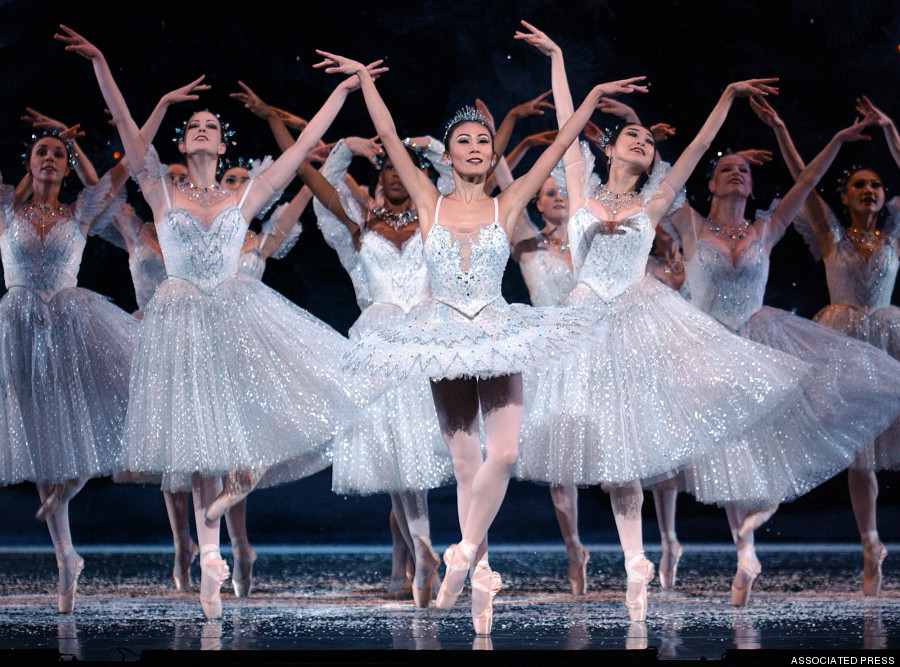 Rie Ichikawa, center, dances the part of the Snow Queen at a dress rehearsal for Boston Ballet's annual production of The Nutcracker, Friday, Nov. 29, 2002, at the Wang Center in Boston. The Nutcracker runs Nov. 29 through Dec. 30. (AP Photo/Michael Dwyer)
"The Nutcracker" leads who play the parts of Misha and Marie rehearsing at the National Ballet Centre on Queen's Quay in Toronto on December 4, 2002. (Photo by Steve Russell/Toronto Star via Getty Images)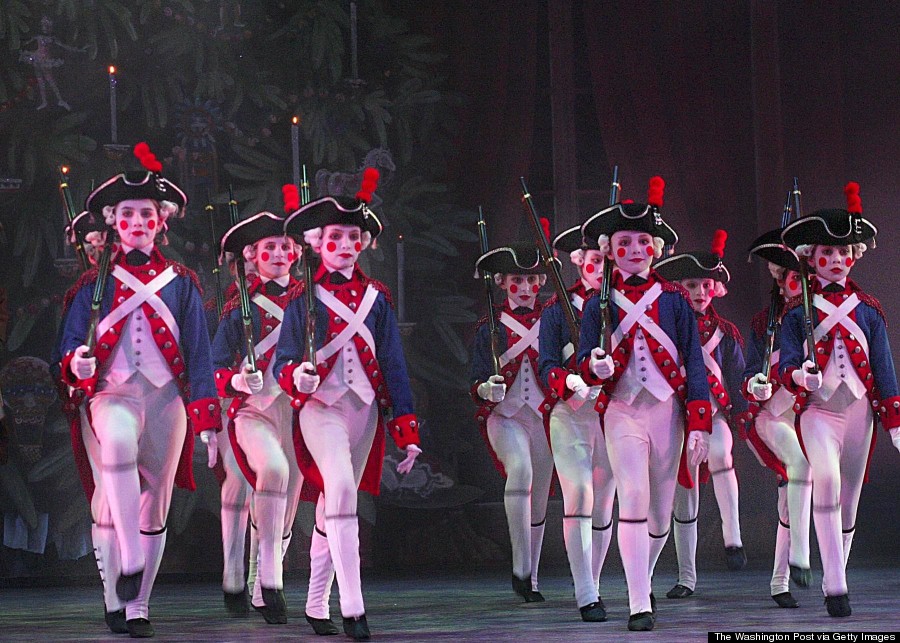 Soldiers dancing during final dress rehearsal of the Washington Ballet's new production of "The Nutcracker" at the Warner theatre in 2004. (Photo by Juana Arias/The Washington Post/Getty Images)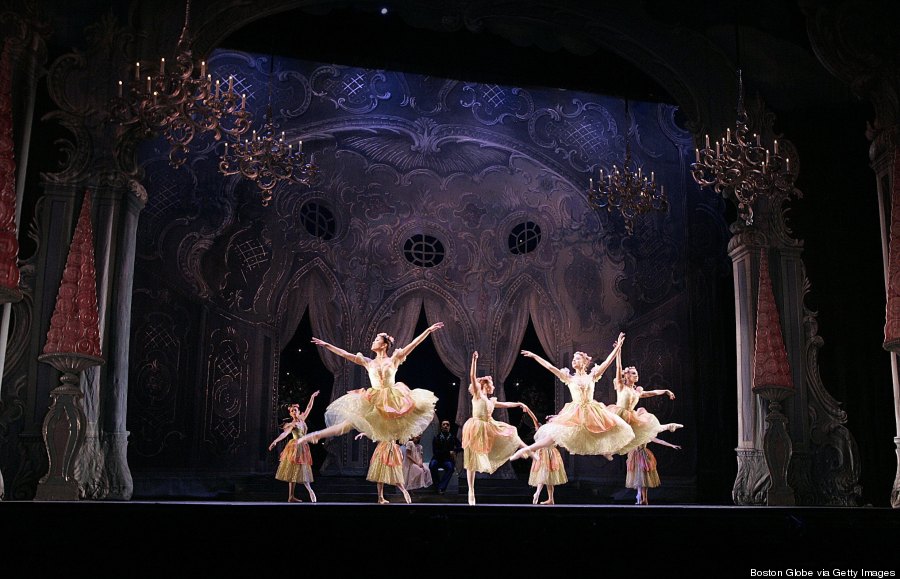 Marzipans dance during dress rehearsal of the Boston Ballet's "Nutcracker" at the Opera House. "The Nutcracker" had its opening night later on the day, Nov. 24, 2005. (Photo by Essdras M Suarez/The Boston Globe via Getty Images)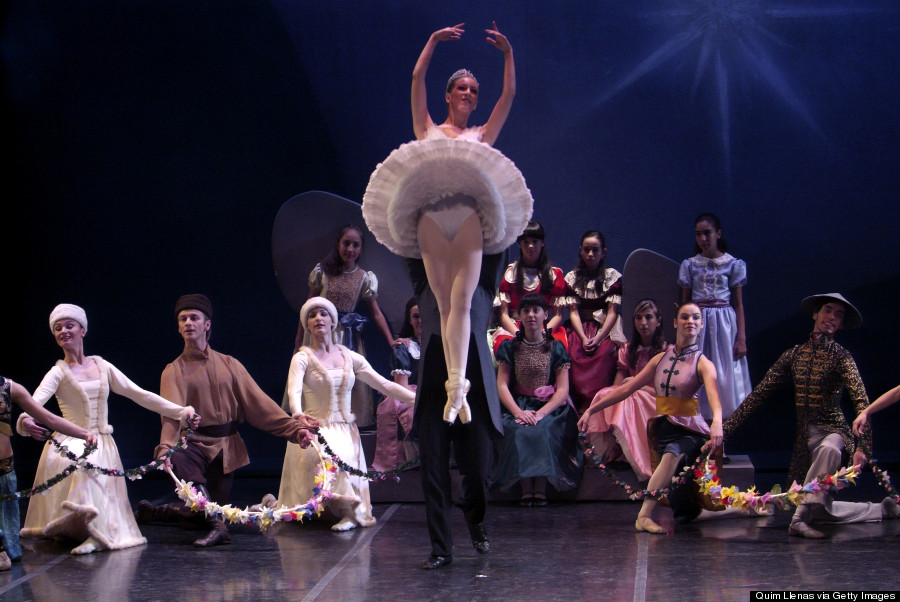 Madrid Theater, Madrid, Spain. Dress rehearsal of the ballet "Nutcracker," a choreographic adaptation of Maria Gimenez on the original of Marius Petipa, directed by Maria Gimenez and produced by Arte 369. (Photo by Quim Llenas/Cover/Getty Images)